Before you judge me, (and find me lacking,) you should know that it snowed here on Friday. Snow. And, not an insignificant amount. We had 3 inches in Des Moines, and there were still chucks hanging around today when I drove to Newton.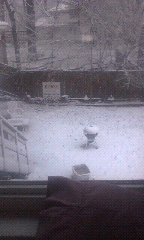 Ah, a beautiful May 3rd morning.
Before it snowed, it rained. After it snowed, it rained. After it rained, it was cloudy and cold. This was all proceeded by the month of March where it snowed, rained, and was cloudy and cold, and also the month of April when it snowed, rained, and was cloudy and cold.
I know. I know. This is Iowa. Bad weather is a way of life. But, I am not going to lie, it has been hard on my psyche and my bike riding.
(I took my rode bike off the trainer last weekend, though now I wish I hadn't).
Also, the dog has decided she likes to sleep in. She doesn't even go out with the Tiger for his morning ciggy. She sleeps in, all cute and cuddly and warm, until I finally peel myself out of the bed.
Just five more minutes.
I offer these items not as excuses for my utter sloth, but rather than circumstances that enabled slothfulness. And, we all know it is hard to stop a sloth.
So, this
Pieathlon
I have on Saturday? I am so not ready. I was getting ready, but that was in March. Now, it is going to be a Sh!t Show Up! It is going to a testament to the "you can dry heave that's okay. At least the money went to a good cause, and there will be pie, and Goldie, as long as she doesn't get bored waiting for me to finish (which is projected to be sometime late Saturday night or early Sunday morning).
I did buy a new swim suit. What I didn't do is figure out what I am supposed to wear during this triathlon. Do I put on my bike shorts? Do I swim in them? (I shudder at the thought of riding and running in a wet chamois).
After Saturday's Affront to the Name Triathlon, what's on the schedule for old Rice?
I don't have any other "real" (i.e. paying) events scheduled. Though, there will be cycling and there will be hiking in my future that needs to be gotten ready for. Also, I decided to take on a boat load of work this summer, so that must be accommodated as well. Some sort of "training" and "schedule" might be in order.
(Is this the point you are wondering what the point of this blog is? Me too.)
But, there is hope! On Saturday night, I made plans with my friend Little Buddy to ride bikes on Monday morning (he's a chef, so he gets Mondays off). I showed up at his house to find him in his pjs with a stunned look on his face. He forgot. I graciously gave him a rain check and rode to Cumming by myself.
Highlights include: seeing a herd of deer, a woodchuck, and several blue jays. Also, there was a neon yellow golf ball stuck in the crotch (yup) of a tree. I did my first slog up the Old Science Center hill (not pretty, but done), and all of it was glorious!
My inner Bad Ass Unicorn just might beat the crap out of my inner Sloth.
In other news, I am going to be working out with Sexy-Lexi again on Tuesday, Wednesday, Thursday mornings at the YMCA. She doesn't like to get up early, so I will have to cool my jets until 6:00 am.
Also, I got a new bike. It is awesome.
Shrink it and Pink it.
And, I am trying to get RAGBRAI beavers in a row, which is super hard without Easy-E or the Boss.